Below is an EXPANDED LIST of all new MODELS available for sale at
Bender Honda
. When you find a TRIM that you like, click to apply for credit, or click for auto loan calculator with amortization schedule, or click for vehicle details page, or click to contact this retailer.
Expanded List:

13 New Models,
90 Trim Levels
#
TYPE
YEAR
MAKE
MODEL
1
NEW
2017
Honda
ACCORD COUPE

Stunning New Style. The Accord Coupe has a sporty and sophisticated style that makes a powerful statement on the road. Bold design touches like the new front grille and the sleek profile ensure that the all-new Accord Coupe always gets noticed.

TRIM LEVELS:

*Vehicle Disclaimers

2
NEW
2017
Honda
ACCORD HYBRID

The Accord Hybrid is both technologically sophisticated and uniquely stylish. Why settle when you can have the best of both worlds? Interior Imagination. From 10-way power seats with memory functionality, Dual-Zone Climate Control and more, the interior of Accord Hybrid is loaded with premium amenities. Our Best Accord is Actually a Hybrid.

TRIM LEVELS:

*Vehicle Disclaimers

3
NEW
2018
Honda
ACCORD SEDAN

Sophistication Comes Standard. Accord Sedan celebrates forty years by combining sophistication with style in a way that is distinctly Honda — immediately eye-catching and altogether irresistible. Feature Comforts. From available 10-way power seats with memory functionality to standard Dual-Zone Climate Control, the interior of the Accord is full of elegance and comfort.

TRIM LEVELS:

*Vehicle Disclaimers

4
NEW
2017
Honda
CIVIC COUPE

2017 Honda Civic Coupe - Sporty. Sophisticated. Civic - A Two-Door Thrill: From the moment you walk up to Civic Coupe, the totally unexpected exterior design makes it obvious you're in for a thrilling experience. The Inside Track: Climb inside and you'll find it's the most comfortable, sophisticated and premium-feeling Civic Coupe ever.

TRIM LEVELS:

*Vehicle Disclaimers

5
NEW
2017
Honda
CIVIC HATCHBACK

The Hatch is Back -- Bold. Brilliant. Beyond. The 2017 Civic Hatchback returns with a distinctly aggressive, angular style that is set to excite. Interior Excitement -- From leather appointments and Dual-Zone Climate Control to seating for 5 and room for plenty of cargo, the Civic Hatchback interior is full of surprises.

TRIM LEVELS:

*Vehicle Disclaimers

6
NEW
2017
Honda
CIVIC SEDAN

The Sophisticated Civic - A Memorable Impression - The 2017 Civic Sedan features aggressive lines and refined features that make the car stand out from the crowd. Inside Outstanding - The Civic Sedan has grown up, and features the most comfortable and sophisticated interior of any Civic ever.

TRIM LEVELS:

*Vehicle Disclaimers

7
NEW
2018
Honda
CLARITY PLUG-IN HYBRID

Put range anxiety in the rear-view mirror. Sometimes, you want to drive an electric car. Sometimes, you need more flexibility. That's why Honda created the Clarity Plug-In Hybrid. Charge up and drive on electricity, or tap into its hybrid engine for unexpected turns—all while spending less time at the pump.

TRIM LEVELS:

*Vehicle Disclaimers

8
NEW
2018
Honda
CR-V

A New Take on a Trendsetter: Distinctive head-and taillights and sporty, sculpted panels create a design that is set to raise the bar for SUVs. The 2018 CR-V is a SUV of style. From bumper to bumper, the CR-V is loaded with just about everything you need to do all the things you want to do. It's your ultra-versatile adventure partner, built to take you just about anywhere you're willing to go.

TRIM LEVELS:

*Vehicle Disclaimers

9
NEW
2017
Honda
FIT

Style and Function. The 2017 Fit is four-wheeled fashion and function. Its body creates an aerodynamic profile for excellent fuel efficiency, but don't worry, it still fits a kayak. More in Store. The interior was designed to maximize the size and utility of the space. See the incredible results.

TRIM LEVELS:

*Vehicle Disclaimers

10
NEW
2017
Honda
HR-V

Crossover to Adventure: The distinct exterior lines of the 2017 Honda HR-V point you toward adventure, whether your wheels are on the ground in a cityscape or the countryside. One HR-V Fits All: With up to 58.8-cubic-feet of cargo space, you've got room for more than just the essentials. Utility Mode: Magic Seat goes down, cargo space goes up.

TRIM LEVELS:

*Vehicle Disclaimers

11
NEW
2018
Honda
ODYSSEY

The 2018 Honda Odyssey Minivan. Style Runs in the Family. We think a minivan should always look sharp. That's why the Odyssey has an aerodynamic profile punctuated with a rear roofline spoiler.

TRIM LEVELS:

*Vehicle Disclaimers

12
NEW
2017
Honda
PILOT

Redesigned for the Modern Family... With all-new aerodynamic styling, the 2017 Honda Pilot SUV has never looked sharper. Room for Everyone... The Pilot can seat up to 8 and still have room for an 82-quart cooler behind the 3rd-row seat.

TRIM LEVELS:

*Vehicle Disclaimers

13
NEW
2018
Honda
RIDGELINE

A Truckload of Ingenuity. The new 2018 Ridgeline has been completely reimagined and redesigned, featuring a host of innovations that will change the way you see a truck. An Intuitive Interior. Ridgeline combines the functionality of a truck with an interior that features upscale amenities, seating for 5 and up to 109 cu. ft. of interior space.

TRIM LEVELS:

*Vehicle Disclaimers
Need Assistance?
Bender Honda

has an expert staff of experienced automotive professionals who are available to answer your questions and address your auto needs in Sales, Finance, Service, and Parts. Meet Our Staff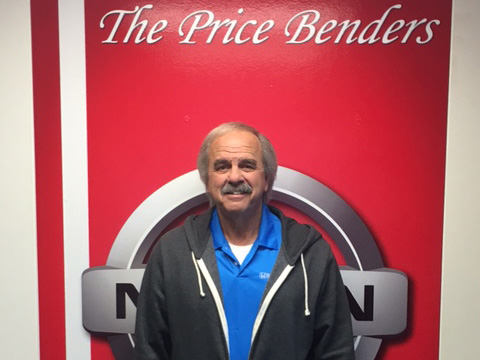 Lou Donofrio
Sales Associate
Bender Honda
Welcome to Bender Honda. If you have questions or need help with any part of your shopping experience with Bender Dealer Group, please feel free to give me a call. I am your helpful Salesperson.
STAFF TOOLS:
--Recommended Products
--Recommended Videos
--Work Schedule
--Expertise
--Read/Write Reviews

College Grads
WE'VE GOT YOU A SPECIAL OFFER ON YOUR NEW CAR.
Military Appreciation
A SPECIAL OFFER FOR YOU.